Dana Huse – Believe it or not.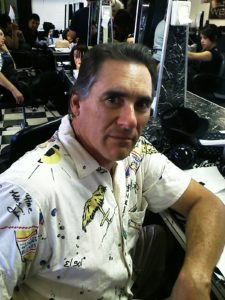 (1955 – so far, so good) Born in Hoboken, NJ, Dana has wandered the United States as a child, finally settling in Ventura, CA, which is a pretty cool place to live. He does not surf, the water is too darn cold. Currently he lives in his own house with two dogs and a huge mortgage.
He gets along well with his parents, who are both dead.
He had a career doing things with computers. He's working on winning any award for any accomplishment.
Interesting things happen to him, which he writes about. He's building a collection, so keep checking his list of books. Right now he's going for short, humorous fiction because most of his life happens in short, funny chunks.
He recently got his black belt in Taekwondo. He doesn't enjoy being kicked but he keeps going because it does good stuff to his body and brain. Sometimes his age is higher than all the rest of the class combined.
He does Tarot readings. Not about what your future will be, but about what you have to do to get the future you want.
He has constant computer problems.
Don't get him started on the roommates he's had.
Things that happened to him that weren't his fault:
His dog brought him a rat as a gift. It wasn't dead.
Ended up in the middle of a rail union riot … in Brussels, Belgium.
Taught English in China.
Had a cell phone stolen by a motorcyclist in Ho Chi Minh city.
Lost a cell phone by leaving it on top of the hood of his so-called car.
Left a cell phone in a movie theater in Chattanooga, Tennessee.
Ran through the main glass door in the biggest mall in Huntsville, AL at a peak hour.
Majored in computer science.
Majored in theater
Majored in business
Majored in psychology, which he actually got a degree in. All this took thirty-three years.
Showed up for a flight in the wrong airport in the wrong city in the wrong state. This story won the "Stupid Traveler's Tricks" contest in Salon.com.
As Kurt Vonnegut said, "And so it goes."
Drop him a line if you like.
Join the mailing list for wild excitement.
Call to Action! Buy his books!